Almond Flour Pancakes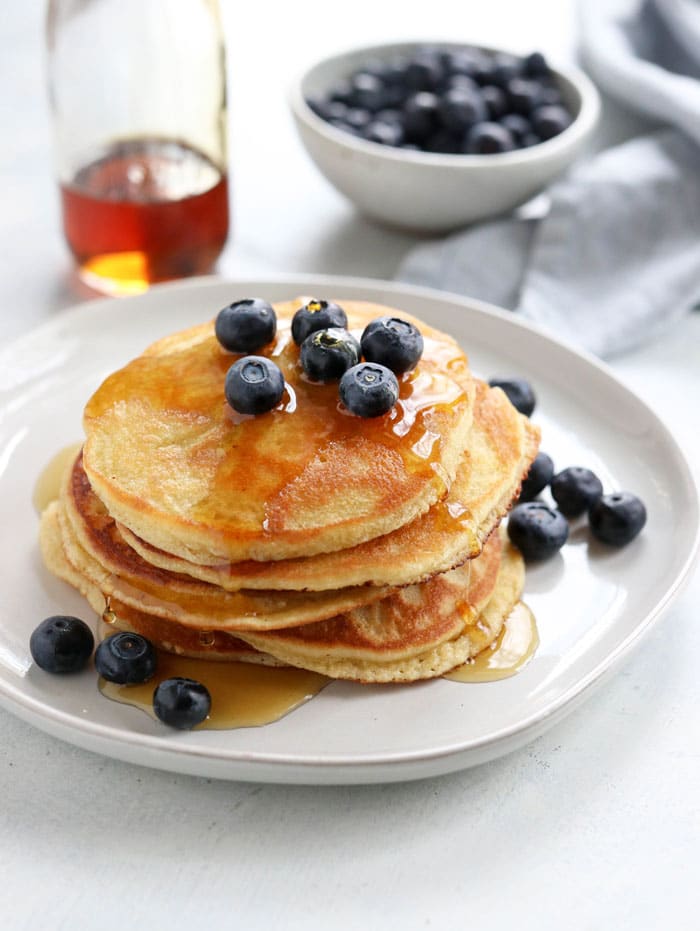 These are light pancakes with a wonderful marzipan flavor. They are a pleasant surprise to people that we serve them to. If you leave out the wheat flour to make them gluten free, make them silver dollar sized as without the wheat flour they are very tender.
1 ¼ Cup Almond Flour
½ cup all purpose flour (Leave out the all purpose flour to make them gluten free and add ½ cup more almond four)
¼ cup sugar
2 tsp baking powder
1/8 tsp baking soda
½ tsp salt
2 eggs
3 Tablespoon melted butter
½ tsp vanilla extract
1 tsp almond extract
1 ¼ cup buttermilk
Whisk together dry ingredients.  Whisk together eggs, buttermilk, extract and melted butter.  Fold together gently until barely mixed.
Meanwhile, heat a skillet or griddle over medium heat until hot. Once heated pour 1 teaspoon olive or canola oil in the pan and rub around with a paper towel. Using a serving spoon pour into the griddle about 3 tablespoons or so of batter into the pan to make each pancake. This batter makes fragile pancakes, so they should be no wider than 3 inches or they will not hold together well. This is especially true if you leave out the all purpose flour to make them gluten free.
Cook until bubbles start to form in the pancakes and underside has browned. Flip and repeat. Serve with butter, syrup, jam, or other favorite topping.
HINT: If you make these pancakes with 100% almond flour (GF) reduce the size of the pancakes as you pour them on the griddle by 1/3 (about 3 inches in diameter). The use of only almond flour for the batter makes them more fragile to turn over, so make them just barely larger than the size of your spatula that turns them.
Makes 6 – 8 servings of Almond Flour Pancakes
Recipes by Chef David Darugh https://www.bestchefsamerica.com/david-darugh